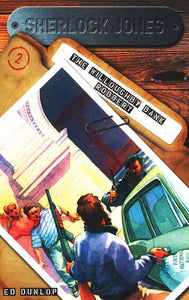 [Book 2 in the Sherlock Jones Junior Detective Series]
Sherlock nudged me and pointed toward the street. An old green car with the engine running was parked directly in front of the bank. "It's a getaway car," he whispered, his eyes shining with excitement. "Penny, there's a bank robbery in progress!"
"Don't be ridiculous," I chided. "You've been reading too many detective stories."
"I don't read detective stories, Penny."
The summer day held little promise for anything extraordinary when Penny Gordon and her friend—called "Sherlock" by everyone in town—set out to put their hard-earned cash in the only bank in Willoughby. However, not only do they happen on a robbery in progress, but also a good friend ends up being blamed! Naturally, nothing in the case gets past detective Sherlock. The hard part always seems to be convincing the grown-ups in charge that Sherlock is right!
96 pgs | Paperback | Ed Dunlop