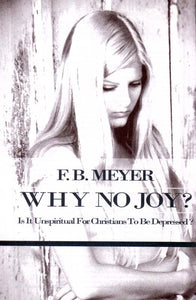 It is the expressed desire of the Lord that each believer have fullness of joy in his life. When this is not the case, it is clear that the reason lies in the child of God.

The importance of the matter is seen in Nehemiah 8:10: "The joy of the Lord is your strength." When joy is absent, diligence should be given to finding the reason. The fault may sometimes be traced to a sin in one's life, but it can also be as simple as a misplaced focus.

F. B. Meyer, beloved Baptist pastor and prolific devotional writer, addresses seven common reasons that a Christian does not have the joy that he needs to be victorious in living for the Lord.
13 pgs | Pamphlet | F. B. Meyer