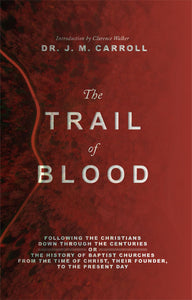 The Trail of Blood: Following the Christians Down Through Centuries or The History of Baptist Churches from the Time of Christ, Their Founder, to the Present Day

This timeless classic, written in the early 20th century, details the history of the Baptists from the time of Christ to present day. It includes an updated and easy-to-read pull-out chart in the back of the book depicting the timeline and origin of the Baptists, the rise of the Roman Catholic Church and the origin of the Protestants. Updated from Dr. Carroll's original chart, this chart includes the 21st century. 
About the Author: Dr. J. M. Carroll was born in Arkansas on January 8, 1858, and died in Texas on January 10, 1931. His father, a Baptist preacher, moved him and his brother, B. H. Carroll, to Texas when he was six years old. There he was converted, baptized and ordained to the Gospel ministry. Dr. Carroll was a preacher, a pastor, an educator, a historian and a college president.  He was well known in his lifetime and his legacy continues today because of his famous work, The Trail of Blood.
72 pgs | Paperback | J. M. Carroll