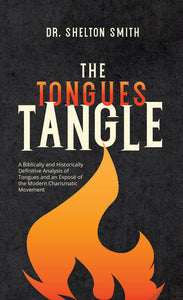 The last century has witnessed the emergence of a new phenomenon in the church, one emphasizing spiritual gifts and majoring on what is called speaking in tongues. Because of the enthusiasm of its advocates and an enormous investment in various media, this movement has had a profound impact on the church in these last days.

While being billed as an awakening of the Spirit's power in the church, it has done nothing to hinder the decline of the earthly church into greater worldliness and impotence. In fact, its de-emphasis on Scripture has likely contributed to this decline.

Bypassing the experiences and going to Scripture alone, Dr. Shelton Smith takes a biblical look at what God says about the matter of speaking in tongues. Covering the genuine instances of glossolalia (speaking in tongues) in the Book of Acts, he compares them to the happenings in Corinth, going into detail regarding I Corinthians 12–14. Added to this is a review of the history of this phenomenon and an analysis of what we are seeing in our own day.
156 pgs | Paperback | Dr. Shelton Smith