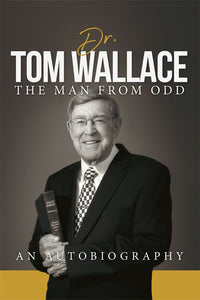 The Man From Odd: An Autobiography is the life story of Dr. Tom Wallace, which chronicles God's miraculous provision through the many trials and triumphs throughout his life and ministry.
Over his seventy years of ministry, he has pastored three different churches and has done evangelistic work in fifty-four countries and all fifty states in America. His experiences and encounters in the ministry have taken him to the mountain tops and walked him through deep valleys. As a result, this storied journey has allowed him to witness many miracles from the hand of the Lord. It is his hope that he might, through this writing, be an encouragement and a help to others even after he has gone to Heaven.
Even after retirement from his last pastorate at seventy years of age, Dr. Wallace has continued to travel extensively, preaching in hundreds of churches in North America and visiting many mission fields worldwide. As a devoted soul winner, he witnesses enthusiastically everywhere he goes, including restaurants, hotels, airports, airplanes, and wherever his travels take him.

Dr. Tom Wallace, pastor, evangelist, author, soul winner and family man, is The Man From Odd.
263 pgs | Paperback | Dr. Tom Wallace