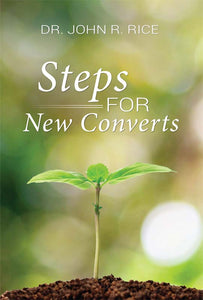 Every Christian starts out as a baby Christian. One has to grow in grace after salvation. It's the goal of this pamphlet to help new converts become firmly rooted in their new-found faith. Inside they'll find answers to important questions like:

Salvation—Can I really know I'm going to Heaven? What does the Bible say about it?

Baptism—What exactly is baptism anyway? Does it save me?

Bible Reading and Prayer—Why should I read my Bible; what can it do for me anyway? Is praying really important? I feel foolish when I'm praying.

Giving and Soul-winning—It's my money, isn't it? Why should I go soul-winning?
This pamphlet makes it easy to find the answers new converts seek as well as erase doubts that may arise. They will be encouraged as they learn the answers to common questions they will encounter.

31 pgs | Pamphlet | Dr. John R. Rice