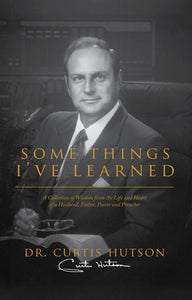 "When wisdom entereth into thine heart, and knowledge is pleasant unto thy soul; Discretion shall preserve thee, understanding shall keep thee."—Prov. 2:10, 11.
Acquiring wisdom takes time. It is a lifelong endeavor but well worth the effort. 
For over thirty years, Curtis Hutson pointed people to Jesus. As he traveled and met thousands of people, he discovered that wisdom is often found in simple everyday truths. "Whenever I learn things that help me, I try to write them indelibly on the wall of my memory. Life should be governed by principles, not preferences."
As a father would share with his son, here is the wisdom of a lifetime to guide and enlighten. Many of these principles you will already know, but others may surprise you. Take a few minutes and let Dr. Hutson share this wisdom with you in Some Things I've Learned.
96 pgs | Paperback | Dr. Curtis Hutson