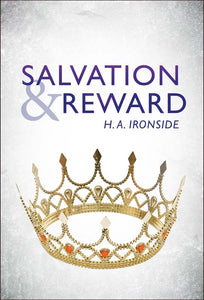 The late Harry A. Ironside was a well-known and beloved pastor, Bible teacher, 
and 
preacher. In this work, he deals with the confusion that has arisen over what the Bible says about salvation and what it teaches concerning God's rewards for His children. 


Salvation is completely the work of God for the believing one. "By grace alone, through faith alone" has been a motto for believers through the centuries. In these days, the message is still important. But the one saved is enjoined to faithfully labor in love for the One who provided his free salvation. To the gift of salvation is graciously added a divine reward in Heaven to the one who served the Master on earth.


Ironside details the rewards and the motivation for those rewards, including the "crowns" awarded by the Lord Jesus at the Judgment Seat. The rewards are for the one who 'strives lawfully' (II Tim. 2:5) and who has "respect unto the 
recompence 
of
 the reward" (Heb. 11:26). May each of us 
strive 
to be faithful to Him that loves us.
31 pgs | Pamphlet | H. A. Ironside