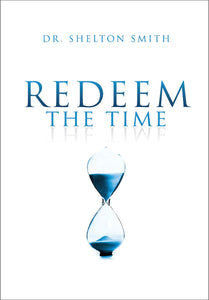 At the New Year, we celebrate the arrival of another twelve-month period, but at the same time we mark the passing of the last twelve months. Regardless of what we didn't get done, we cannot go back and do it now. Likewise, whatever we did accomplish, there are new goals to be reached in the next year. We do not know whether or not this might be the year of the Lord's coming for His own, but we do know that His coming is one year closer than it was. 

So as you look back on last year, can you say it was the best year you ever had in serving the Lord? It was supposed to be: "The path of the just is as the shining light, that shineth more and more unto the perfect day" (Prov. 4:18).

In Redeem the Time, Dr. Shelton Smith gives much practical, detailed advice in many areas of life concerning how we can make the coming year all that it should be. God has redeemed our eternity; He calls on us to Redeem the Time.
22 pgs | Pamphlet | Dr. Shelton Smith