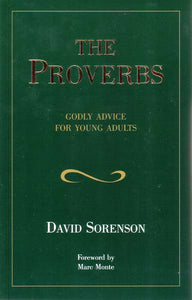 The Holy Spirit inspired Solomon to write Proverbs to his young adult son. Though approximately 3,000 years have passed in the meantime, the truths contained in Proverbs are timeless. And young adults need these truths today more than ever.

Solomon admonished his son to avoid sexual immorality of any kind. He stressed the virtue of obtaining wisdom. He warned against the dangers of alcoholic beverages. He linked wisdom and basic righteousness. And, he warned his son to avoid the world and the world's crowd.

This is "must" reading for Christian young adults. If one will read a chapter a day, in a month, this timely book will be well digested.
299 pgs | Paperback | David Sorenson