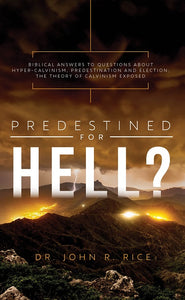 Predestined for Hell? Biblical Answers to Questions About Hyper-Calvinism, Predestination and Election; the Theory of Calvinism Exposed
Does God predestinate some men to Hell? Are there some who can never be saved, born to be damned by God's own choice? 
This is the teaching of Calvinism, a philosophy taught by John Calvin. The controversy of predestination is still alive today. Does the Bible really teach this?
Dr. Rice gives this a thorough examination. Point by point, he shows the fallacy of this teaching and exposes this radical heresy. As with all heresies, the theory of Calvinism is man-made and collapses under an honest study of the Scriptures.
117 pgs | Paperback | Dr. John R. Rice