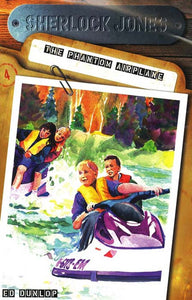 [Book 4 in the Sherlock Jones Junior Detective Series]
"Look for the notebook, Penny," Sherlock urged me. "Check the cabinets."
I opened the polished wood cherry cabinets over the marble sink. It was empty—except for the notebook we were after!
"Fantastic Penny! Now, let's get out of here."
We heard the front door open and I felt as if my heart had stopped.
Unable to avoid excitement wherever they go, Penny Gordon and her brilliant detective friend Sherlock Jones find their visit to a friend's lakeside mansion is no exception. When they notice some very suspicious activity at the grand estate across the lake, Sherlock begins to piece together clues that point to shady dealings on the part of a high-ranking government official. When the two young people get caught "investigating," and are taken hostage, the frightening question becomes "How far will criminals go to cover their  tracks?"
141 pgs | Paperback | Ed Dunlop