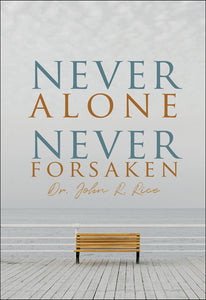 How is your heart today? Troubled? Fearful? Sad? Hungry? Ambitious? Lonely? Whatever your trouble, God has the cure, and it is presented in this pamphlet.

With sweet comfort and encouragement, Dr. Rice discusses the following points:

The Lord is with every Christian, altogether apart from his feelings

The Holy Spirit dwells in the Christian always

The Heavenly Father's love never lets go of His child

Christ ever liveth to make intercession for His own

The Christian's eternal safety is guaranteed because he is never left alone, never forsaken
This is God's greatest truth for the Christian—just right for the shut-in, the bereaved and others who need the special message of this pamphlet.

22 pgs | Pamphlet | Dr. John R. Rice