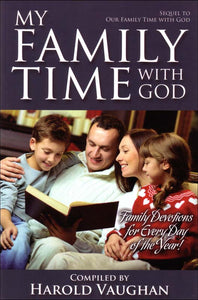 Today, more than ever, the Christian family is bombarded with busyness. Our schedules are filled with many good things—church functions, school events, sports, and other activities. But are we forgetting the best thing?

As parents we have the responsibility to disciple our children and bring them up in the nurture and admonition of the Lord. There is no better way to accomplish this than the daily practice of family worship around the Word of God.

Containing 365 devotionals (one for every day of the year), My Family Time with God is a tool designed to assist you in this blessed duty. Every day is a new opportunity to draw closer to the Lord and grow in our love for one another. Appropriate for all ages, this book will challenge your entire family to grow in faith and love for God and one another!
366 pgs | Paperback | Compiled by Harold Vaughan