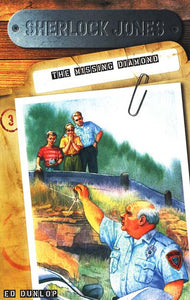 [Book 3 in the Sherlock Jones Junior Detective Series]
"Sherlock," I begged, "please tell me this is a joke. Over."
I heard him sigh. "I wish I could, Penny, I wish I could. Over and out."
I stumbled downstairs in a daze. Dad saw the look on my face and rushed to my side.
I burst into tears. "Oh, dad," I wailed, "they took Lisa!"
The young detectives find themselves in a life-or-death race for time as a countdown threatens the life of a kidnapped young heiress. Sherlock's brainpower is put to the test as he searches for lifesaving clues in the intricate  world of computer technology. For he—and he alone—is left to unlock the secrets upon which Lisa Diamond's life depends.
109 pgs | Paperback | Ed Dunlop