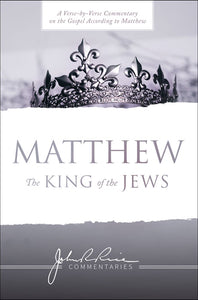 Matthew: The King of the Jews
A Verse-By-Verse Commentary on the Gospel According to Matthew

Dr. John R. Rice, founder and first editor of the Sword of the Lord, was a prolific author throughout much of the twentieth century. In addition to editorials and dozens of teaching pamphlets that are still in wide use, he wrote a number of major theological works dealing with many facets of the Christian faith. Among these are several verse-by-verse commentaries on some of the key books of the Bible.

Matthew's Gospel emphasizes the royal aspect of Christ's coming, as He presented Himself to Israel as their prophesied King. It begins with His royal genealogy and the visit of foreign dignitaries to pay homage to the newly born Monarch. In Matthew: The King of the Jews, Dr. Rice explains the meaning of the parables having to do with the kingdom and discusses the prophecies relating to the return of Christ to establish His literal, earthly kingdom over the world, headquartered in Jerusalem.

333 pgs | Paperback | Dr. John R. Rice