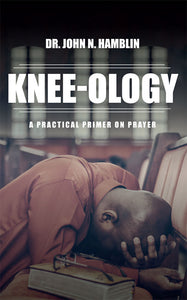 While most Christians are familiar with the term "theology," the study of the nature of God, even the best of Fundamentalists are often living beneath their spiritual privilege. In this crucial hour, many of us need to be formally introduced to what is sometimes called "knee-ology."
Within this treatise on prayer, the earnest reader will find both the inspiration and the instruction he needs in a deliberate devotional format for one of the most rewarding exercises of the Christian life. A daily, private exchange at the Throne of Grace is a portion of the Christian's spiritual birthright.
With the practical tutoring of this Bible-based volume, your prayer experience will elevate your walk with the Lord to a new, exciting spiritual plateau.
54 pgs | Paperback | Dr. John N. Hamblin