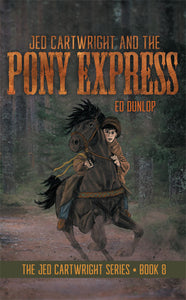 When Pa Cartwright moves his family to the outskirts of St. Joseph, Jed is delighted to learn that the Pony Express trail crosses their new property. Imagine his astonishment when one of the riders turns out to be none other than Henry Sweeney, Jed's friend from the orphanage!
When Henry has a crippling accident, Jed has no choice but to finish the mail run. On his first trek for the Pony Express, Jed is tasked with relaying vital information to an Army outpost about wagon loads of rifles that have been hijacked by robbers.
Exhausted and saddle sore, can Jed reach the Army outpost in time to notify the commander and intercept the transfer of stolen rifles? More importantly, will Jed make it home to his family?
167 pgs | Paperback | Ed Dunlop