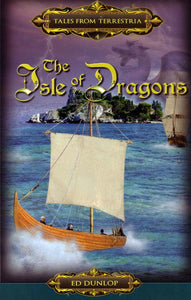 The Dragon Tournament—a mysterious event that draws young people by the thousands. Admission is free, but what price do the participants really pay?

When sixteen-year-old Joel of Seawell, the son of a peasant fisherman, receives an invitation to the Tournament he is thrilled beyond words. Too late he learns the terrifying secret of the Isle of Dragons.

Captive in a hostile land, Joel gives up all hope, certain he will never again see his home or experience the happy life he once knew. In his despair, he has overlooked a powerful force—the unconditional love of his father.

Journey to Terrestria, the land of adventure, the realm of King Emmanuel. The Isle of Dragons, written to encourage young readers to listen to the right voices, is the fourth book in the Kingdom Tales from Terrestria series.
177 pgs | Paperback | Ed Dunlop