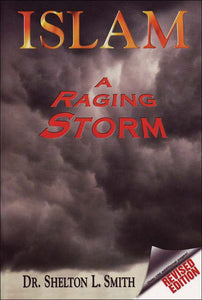 Although Islam had already attained a position of dominance in several dozen countries in other parts of the world, and even though the Islamic presence had become more noticeable in America in recent years, it was on September 11, 2001, that the attention of the nation was first riveted on Islam.
On that day Islamic invaders attacked America, killing thousands of innocent people professedly in the name of Islam.
In "Islam: A Raging Storm" Dr. Shelton Smith examines the religion, its history, its philosophy, its teaching and its practices. In a thoroughly analytical expose Dr. Smith carefully documents the issues with Islam now facing our world.
With a strongly Scriptural perspective, the contrast between Islam and Christianity is proclaimed clearly and uncompromisingly.
160 pgs | Paperback | Dr. Shelton Smith