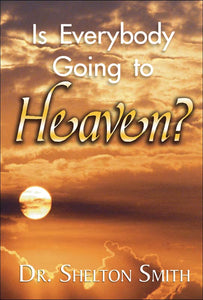 According to a 2003 national survey by the Barna Research Group, most Americans believe that they are going to Heaven. Millions of people seem to have the idea, that they can do whatever they please in this life and God will overlook it all and open the door for them. 
Dr. Shelton Smith sets the record straight. As a sinner, man needs to be saved in order to go to Heaven, but no man has ever conceived of a way to accomplish his own salvation. That is why Jesus died to pay for our sins so that salvation and Heaven might be offered by God as a free gift to sinners who will accept it.
If you think you are going to Heaven, this booklet will either give you blessed peace and assurance about the matter or it will keep you from pursuing the wrong path and ending up lost in the end. If you do not believe you are on your way to Heaven but you would like to know how to get there, Dr. Smith makes the way so plain you need not miss it or be uncertain about it.
23 pgs | Booklet | Dr. Shelton Smith