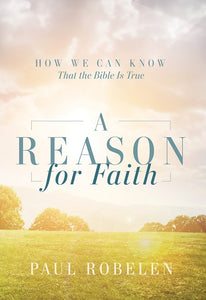 A Reason for Faith—How We Can Know That the Bible Is True
Is faith opposed to reason? Can an intelligent and critically thinking person accept religion without sacrificing his ability to reason? Can we really have any confidence in an ancient book that makes seemingly outlandish and supernatural claims?
In this pamphlet, Evangelist Paul Robelen examines the Bible by the tests that men use to determine truth and by the standards that God lays out to test spiritual truth as well and shows how it passes every test devised by man or proposed by God to prove that it is completely true.
25 pgs | Pamphlet | Evangelist Paul Robelen