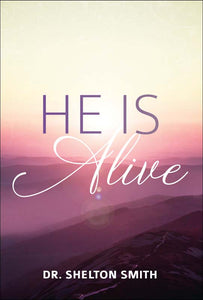 The Easter season is celebrated by many people across the world because Jesus Christ arose from the dead. Some churches and denominations have traditions which have degenerated into routine observances simply because it is that time of year again.

But the one relevant fact about Easter is that it commemorates the rising of Christ alive from the grave. Three days and three nights after He had offered Himself in death on the cross for the sins of lost and helpless humanity, He was alive again.

Who was this unique Person in history who conquered death and what does His victory mean for us? Dr. Shelton Smith cites a sevenfold biblical description of the Lamb of God, who was the Son of God. He also gives seven practical benefits of His redemptive work.

The message that "He Is Alive" is life-altering and impacts eternity for all who will fully trust Him.
20 pgs | Pamphlet | Dr. Shelton Smith