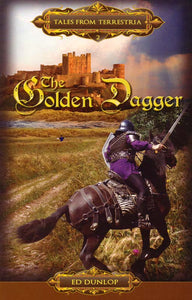 A kingdom in danger. An impending invasion by the bloodthirsty Karnivans. A missing prince. And a young man with a top secret mission.
When two goat herders free a young nobleman from the Windstone castle dungeon, they begin a journey that will change history—and bring all three young people face to face with deadly secrets. Exactly who is Sterling, their mysterious companion? What is he hiding? Why are Grimlor's armies so intent on capturing him? The answers could help find the true king of Cheswold in time to save the kingdom.

The Golden Dagger illustrates the importance of obeying the Word of God and the Holy Spirit rather than relying on the flesh. This is the second book in the Tales from Terrestria series, a companion series to The Terrestria Chronicles.

 178 pgs | Paperback | Ed Dunlop