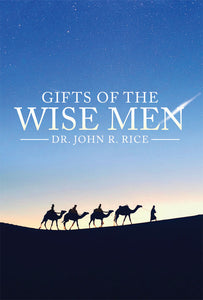 "When the fulness of the time was come, God sent forth his Son, made of a woman" (Gal. 4:4). For many centuries Christendom has ended the year with a celebration of the incarnation of God in Christ Jesus. One of the favorite parts of the story deals with the coming of "wise men from the east" (Matt. 2:1) to honor the newborn King with their gifts.
The gifts of "gold, and frankincense, and myrrh" (vs. 11) each represent a reference to an aspect of Christ and His ministry. And providence likely used these gifts to support the young family as they fled to Egypt from the danger posed by King Herod. But the wise men could not have been aware of these things. They simply wanted to present to this King the best that they had.
 Dr. John R. Rice provides insight into the precious nativity story and the gifts received by the newborn Saviour. He adds his own challenge to imitate the wisdom of these men. A popular seasonal adage says, "Wise men still seek Him." This is true, but the truly wise also bring their greatest treasures on their quest so they can present them to Heaven's King when He is found.
21 pgs | Pamphlet | Dr. John R. Rice