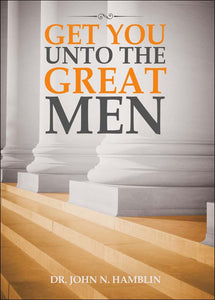 We live in a world of debauchery and depravation. We, like the prophet Jeremiah, must get unto the great men of old who have trodden the way before us and allow them to inspire and instruct us as we navigate life's treacherous paths. Those great men—not men of perfection, but men of courage, faith and focus—did not capitulate to the culture of their day.

The answer to revival in the hearts of men and women in this hour is simply to fall in step with the giants that are now in Glory and Get You Unto the Great Men.

Whom are you trusting to set the bar in your life? The so-called heroes of today or those who have stood the test of time and have known the ways of the Lord?
24 pgs | Booklet | Dr. John N. Hamblin