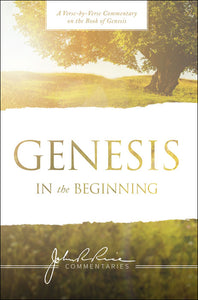 Genesis: In the Beginning
A Verse-By-Verse Commentary on the Genesis

Dr. John R. Rice, founder and first editor of the Sword of the Lord, was a prolific author throughout much of the twentieth century. In addition to editorials and dozens of teaching pamphlets that are still in wide use, he wrote a number of major theological works dealing with many facets of the Christian faith. Among these are several verse-by-verse commentaries on some of the key books of the Bible.

In his commentary, Genesis: In the Beginning, the first eight chapters are devoted to the issues surrounding the debate between evolution and Creation. Special attention is given to the Flood in Noah's day. The first eleven chapters of Genesis, which lay the groundwork for all human institutions and social relationships, are covered from a literalist, Bible-believing viewpoint. Then the early years of God's chosen people, Israel, are presented from their founding in Abraham until their settlement in Egypt in the time of Joseph.

400 pgs | Paperback | Dr. John R. Rice