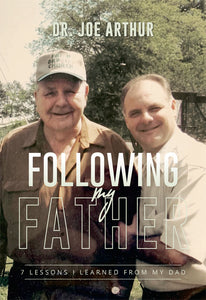 Following My Father—7 Lessons I Learned from My Dad
A father, often described as one's hero and best friend, makes a lasting impact upon the lives of his children. In Following My Father, Dr. Joe Arthur gets to the heart of the matter of what it takes to be the right kind of father.

Just as the father in Proverbs 23 imparts seven words of wisdom to his son, Dr. Arthur presents seven valuable and cherished lessons learned from his father. In this pamphlet, you will find helpful subjects like seeking wisdom, walking in the fear of God, blessed rewards and more.
These simple, practical lessons will reveal enduring truths that have been tried and proven. They have withstood the test of time. With the Bible as our guide, we too can be godly, compassionate, devoted fathers.
15 pgs | Pamphlet | Dr. Joe Arthur