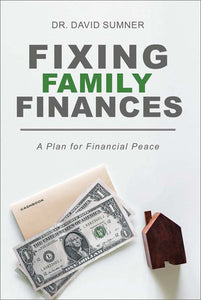 Oftentimes families find it difficult to keep their finances in order. Failure to communicate leads to struggles in marriage. Even with the myriad of financial help books that are readily available, it seems that families still find it challenging to keep their finances in order.

God has given us the answers to this problem in His Word. Carefully studying the Scriptures will help a family or individual solve a multitude of financial nightmares.
In this pamphlet, you will find helpful tips on
preparing and keeping a budget

money and marriage

teaching children to manage money
Fixing Family Finances gives biblical principles that will enable a family to keep their finances in order and honor the Lord.
21 pgs | Pamphlet | Dr. David Sumner