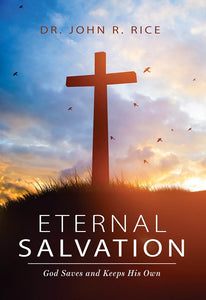 Eternal Salvation—God Saves and Keeps His Own
It is vitally important to have a clear understanding of this most basic and fundamental doctrine of "Eternal Salvation." The truth is, if you do not understand the eternal security of God's people, you do not understand what it means to believe on Christ!
In this classic pamphlet, Dr. Rice masterfully uses the light of God's Word itself to clearly reveal for us the simple truth behind this very important issue.
29 pgs | Pamphlet | Dr. John R. Rice