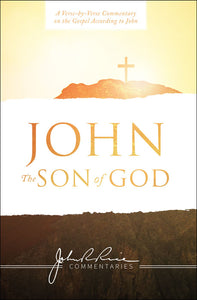 John: The Son of God
A Verse-By-Verse Commentary on the Gospel According to John

Dr. John R. Rice, founder and first editor of the Sword of the Lord, was a prolific author throughout much of the twentieth century. In addition to editorials and dozens of teaching pamphlets that are still in wide use, he wrote a number of major theological works dealing with many facets of the Christian faith. Among these are several verse-by-verse commentaries on some of the key books of the Bible.

In John: The Son of God, Dr. Rice comments on the fourth Gospel, written decades after the first three inspired accounts were given. The majority of the content of this Gospel is unique to this telling of Christ's life. God's power and love is seen in the many miracles described, and Christ's compassion is shown in private personal encounters with individuals. These prove this Gospel was "written, that ye might believe that Jesus is the Christ, the Son of God; and that believing ye might have life through his name" (20:31).

284 pgs | Paperback | Dr. John R. Rice