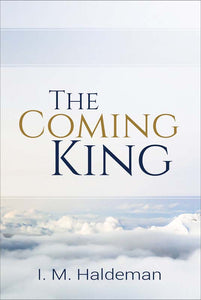 The Lord Jesus Christ is "The Coming King!" Just as His first coming was predicted in the Old Testament, so His second coming is predicted in the New Testament. It is a comforting truth for every Christian and a major fundamental doctrine of the Christian faith.

The great preacher I. M. Haldeman declares, "To neglect the preaching of the second coming seems well-nigh criminal." He states, "It ought to be preached." Then he exhorts every preacher, "Let us hold it up."

The Rapture! The Marriage Supper! The Judgment Seat of Christ! The Millennium! The Eternity in Heaven! It is "the blessed hope" (Titus 2:13). He is coming!
31 pgs | Pamphlet | I. M. Haldeman