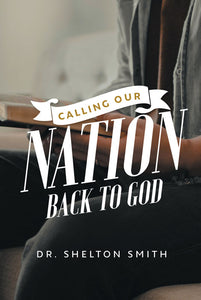 The contemporary society of 21st Century America is driven largely by cultural preferences, demographic trends, moral chaos and spiritual dysfunction. The nation that once openly pledged itself to be "one nation under God" has in recent decades taken a sharp turn into atheism, humanism, secularism and materialism.
As entertainment became the norm in many of the nation's churches, the light of the Word of God was dimmed, and the darkness settled ominously upon our land.
In Calling Our Nation Back to God, Dr. Smith urges Christian leaders to stand up tall, speak out clearly and call the people to repentance, to righteousness and to revival. 
The need is great and the hour is late! The time to act is upon us! Let's rise up and call our nation back to God!
17 pgs | Pamphlet | Dr. Shelton Smith