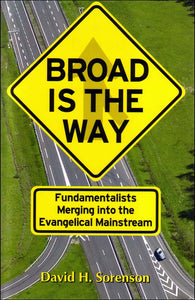 David Sorenson presents a real-world perspective of fundamentalist institutions and individuals who have or are considering merging into the evangelical mainstream.

The author writes from more than 40 years of pastoral experience in interacting with individuals, churches, and educational institutions which once were fundamentalists or are now enamored with the evangelical movement.

Woven throughout the book is a wealth of church history of the 20th and 21st centuries, particularly as it relates to the fundamental, independent Baptist movement. The reader will also find insightful chapters on Christian music as well as why institutions shift from a fundamentalist to an evangelical position.

This book is a must read for young men and women who are unsure of their fundamentalist heritage. The evangelical movement seems quite attractive to many in this age. But David Sorenson peels away that attractive veneer to reveal the scriptural compromise and spiritual declension prevalent in the evangelical movement.

For those who are convinced of their fundamentalist heritage, this book will re-enforce those convictions and be an interesting read.
303 pgs | Paperback | David Sorenson