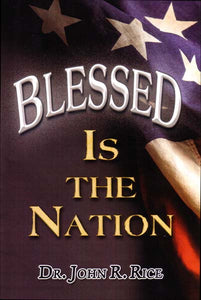 From its founding, in times of revival and in times of spiritual lukewarmness, America has identified itself with God. The biographies of the Founding Fathers and the documents they penned are replete with evidence to this effect.
America's unique rise among the nations was due to the blessing of God, even as the exaltation of Israel in past days showed His hand in their affairs. But every time Israel embraced apostasy, God's blessings were removed—and so was Israel's freedom. America certainly has no more claim on God's blessings than they did, and the current drift into apostasy can have no better outcome. 
Since our prosperity depends upon His blessing, and since His blessing depends upon our recognition of Him, the hope for the nation is tied directly to the responsible relationship that Christians have with their God and their Savior.
We pray that every Christian who reads this be moved in heart to a new love for country, to a new sense of responsibility as a citizen of this country which God has so richly blessed.
29 pgs | Booklet | Dr. John R. Rice