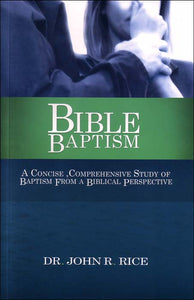 A Concise, Comprehensive Study of Baptism from a Biblical Perspective
Diligently searching scriptures, Dr. John R. Rice gives a concise and comprehensive study on the subject of Biblical baptism. Visibly demonstrating the death, burial and resurrection of Christ in believer's baptism is the new convert's first step of obedience.

There is much confusion and erroneous teaching today about baptism. You can know what the Bible teaches and be confident in the answers found within this book.
73 pgs | Paperback | Dr. John R. Rice