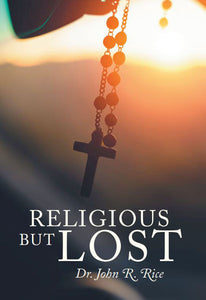 In the Garden of Eden, man became spiritually separated from God by sin. He has invented many religions in an attempt to find his way back to God. Some of these religions use Bible terminology and even the name of Jesus Christ. But man's pride stubbornly insists that he can somehow become good enough through his works and efforts to make himself once again acceptable to God.

A man's religion will not carry him to Heaven. Good works, no matter how plentiful, will not outweigh one's sin debt. Are you depending on your church membership, your morality or your baptism to appease a righteous God and earn your way to Heaven?

Dr. John R. Rice looks at the words of Jesus in Matthew 7:21: "Not every one that saith unto me, Lord, Lord, shall enter into the kingdom of heaven." He relates many incidents of people saved in his revival meetings who had been church members for many years without ever receiving Christ by simple faith. The text shows the folly of this attempt to please God, and Dr. Rice clearly reveals from the Scriptures the one true way to assurance of eternal life.
25 pgs | Pamphlet | Dr. John R. Rice