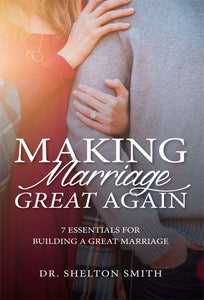 Making Marriage Great Again: 7 Essentials for Building a Great Marriage

A now-famous slogan of a recent political campaign was "Make America Great Again!" Liberty is not automatic and those who have it must take care to keep it. Over many years of carelessness, our nation had become less than what it was.

But in a very similar fashion other parts of life require the same kind of diligent vigilance. That would certainly be the case with marriage. Too often couples get caught up in the busyness of life and neglect the things that contribute to making marriage the blessing that God intended for it to be.

Dr. Shelton Smith goes to the key Bible passage on the subject, Ephesians 5:21-33, and spells out seven defining principles in the passage that gives God's plan for the first human institution He founded. Those God-given guidelines are essential for "Making Marriage Great Again."
20 pgs | Pamphlet | Dr. Shelton Smith