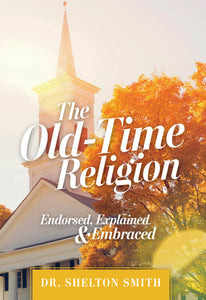 The Old-Time Religion—Endorsed, Explained and Embraced
When we talk about "the old-time religion," we are taking a stand for the rich legacy of New Testament Christianity. This means we are fundamentalists, we are Baptists, and we are separatists. It also means we are unalterably opposed to the contemporary church mindset, which compromises itself by a wholesale accommodation to the current culture.
The principles and practices recorded on the pages of the Holy Scriptures should guide us and govern us in what we do today and every day.
Follow these simple principles from Dr. Shelton Smith so you may know how and when to draw a line in the sand, allowing you to embrace the old-time religion, "the faith...once delivered" (Jude 3).
20 pgs | Pamphlet | Dr. Shelton Smith