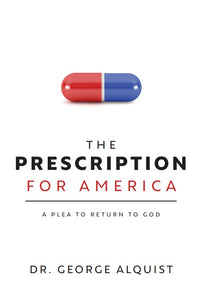 The Prescription for America: A Plea to Return to God
When America's founding fathers penned the documents that would mold this great nation into a God-honoring country, they looked to God's Word to help guide the way. Almost 250 years have passed, and our history is being erased and rewritten to fit a narrative opposite of what our nation's first leaders envisioned and what our Creator wants.
America is spiritually sick! There is only One Who can offer the remedy. With strong biblical support, Dr. George Alquist advises his fellow countrymen on what prescription is needed in this hour of spiritual disease. If America embraces this path to spiritual health, we will once again experience great revival. We will once again see God Bless America!
13 pgs | Pamphlet | Dr. George Alquist