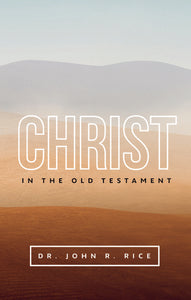 How thrilled I was, years ago, when I found that the Old Testament in Isaiah 53 told about Christ and His atoning death! Later, I learned that God foretold Christ's coming to Adam and Eve, that Abraham saw Christ's day and was glad that the virgin birth of Christ, His triumphal entry into Jerusalem, His very words on the cross and details of His crucifixion, were foretold, even His resurrection from the dead. I found that there is about as much in the Old Testament about Christ's second coming as in the New Testament. Best of all, I learned that every prophet in the Old Testament witnessed about Christ, "that through his name whosoever believeth in him shall receive remission of sins" as the apostle Peter said (Acts 10:43).
A fervent but little-taught young preacher once said to me, "I am evangelistic. I want to preach the Gospel and get people saved. So I preach mainly from the New Testament." I could show him that the Lord Jesus preaching to Nicodemus, and Peter at Pentecost did very well preaching the Gospel from the Old Testament.
This is not a dry theological treatise. Here we do not discuss every reference to Christ in the Old Testament, but we preach here on the great passages clearly said to refer to Christ.
These Scriptures make one's heart burn with job and devotion. May this heartfelt preaching bless all who read.
These messages were preached on the Voice of Revival broadcast, nationwide, and are now published in book form so that their ministry may continue to bless others.
174 pgs | Paperback | Dr. John R. Rice