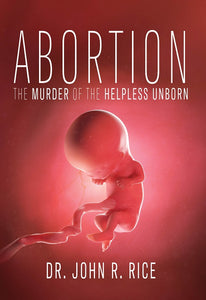 Abortion—The Murder of the Helpless Unborn
In 1973, the Supreme Court handed down the monumental decision which made abortion a constitutional right as a result of Roe v. Wade. In 2022, another crucial case (Dobbs v. Jackson Women's Health Organization) was heard, which ultimately led to Roe v. Wade being overturned.
While the overturning of that original decision should be celebrated, Christians cannot give up the fight against the murder of babies in the womb. Roe being overturned did not equate to a federal ban on abortion. Individual states now have the power to enforce protections on this heinous procedure and those seeking it, meaning it will remain legal in some states.
In this pamphlet, Dr. John R. Rice offers substantial scriptural support on why God hates abortion as well as a thoroughly documented and scientific exposé of the sin of abortion.
25 pgs | Pamphlet | Dr. John R. Rice