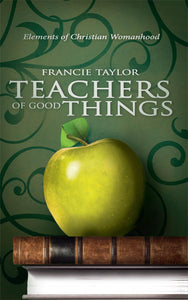 Godly Christian womanhood is a matter of training.

Where are the mentors for Christian women today? Why aren't young women excited about the possibility of becoming wives and mothers anymore? What pattern are women choosing to follow? Is godly Christian womanhood a lost art?

The godly, Christian woman is a product of purposeful, practical training. There is no doubt that women who are not mentored by design are left to be influenced by default. An eight-point "job description" is clearly outlined in Titus 2. It is the scriptural strategy in which women mentor other women.

Teachers of Good Things will provide ideas to help you work on the important areas of your own life and help other women to learn the same precepts and practices.
166 pgs | Paperback | Francie Taylor