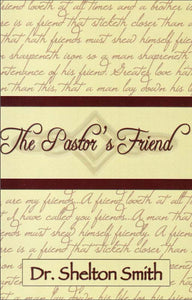 One of the qualifications for a pastor (I Tim. 3) is that he is to be "given to hospitality"; that is, he is to be a friend to those in his congregation. In times of crisis, this "friend" is often the first to be called, and because he is the pastor (shepherd), he drops everything to see that the needs of his people are met. 
The pastor, though he is a man of God, is, nonetheless, himself a man. He too needs friends, those who are "given to hospitality." His success or failure as a pastor may in fact depend on whether or not there are those in his flock who are gracious to him. 
Many years as a pastor have qualified Dr. Shelton Smith to write on this subject. His list of suggestions on how you could (and should) be your pastor's friend will provide a foundation on which a lot of good things can be built.
 20 pgs | Booklet | Dr. Shelton Smith