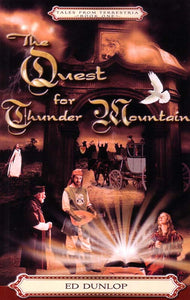 A dangerous quest to a mysterious mountain—but how will it end?
When Gavin's career comes to an abrupt end, the talented young minstrel learns that King Emmanuel has plans for him—plans that promise life and purpose; but Gavin must make a difficult quest to a mysterious mountain.
The young minstrel eagerly sets off on his journey with three companions, but the travelers are warned that Thunder Mountain is a place of terror and treachery. Will Gavin and his friends find Emmanuel's will on the mountain or are they walking into a trap? There is only one way to find out. Travel back to the days of noble knights and powerful warlords…daring quests and deadly dragons…the days of honor and valor and chivalry.
The Quest for Thunder Mountain is the first book in the Tales from Terrestria series, a companion series to The Terrestria Chronicles.
177 pgs | Paperback | Ed Dunlop