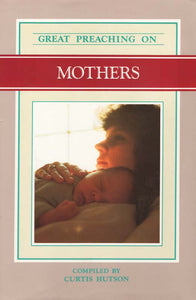 In this volume, we pay our highest tribute to all mothers, especially those true to the standards set forth in the Bible. Qualities of a godly mother are founded in the Bible.

So few places can you find such a great collection of sermons, by so many varied authors, all geared to one theme—Mother. They will be good illustrations for preachers on Mother's Day; they will make fine gifts to those so precious to us, and we trust this volume may bless its thousands directly and its millions indirectly in all the days to come.

Sermons include: Thank God for Mothers! (John R. Rice); How a Believing Mother Got a Blank Check from Jesus for Whatever She Desired (Charles Spurgeon); The Mother-in-Law (Melvin Munn); Play Your Role (Curtis Hutson); An Old-Fashioned Home (J. Wilbur Chapman); The Influence of a Christian Home (R. G. Lee); Will the Circle Be Unbroken? (Hyman Appelman); plus many more.
256 pgs | Hardback | Compiled by Dr. Curtis Hutson